ALL BACK MIX vol.1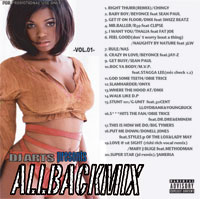 アーティストオムニバス
価格 \ 1,500(税込)
種別 コンパクトデイスク
レーベル/CHAMBERAND
※選曲リストはページ下です
-----------------------------------------------------------------
ALL BACK MIX vol.2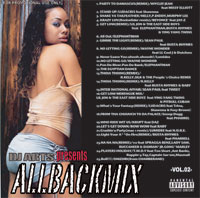 アーティストオムニバス
価格 \ 1,500(税込)
種別 コンパクトデイスク
レーベル/CHAMBERAND
※選曲リストはページ下です
-----------------------------------------------------------------
ALL BACK MIX vol.3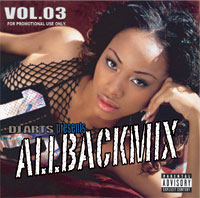 アーティストオムニバス
価格 \ 1,500(税込)
種別 コンパクトデイスク
レーベル/CHAMBERAND
※選曲リストはページ下です
-----------------------------------------------------------------
ALL BACK MIX vol.4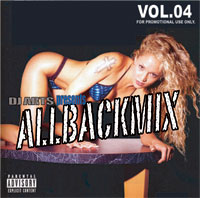 アーティストオムニバス
価格 \ 1,500(税込)
種別 コンパクトデイスク
レーベル/CHAMBERAND
※選曲リストはページ下です
-----------------------------------------------------------------
ALL BACK MIX vol.5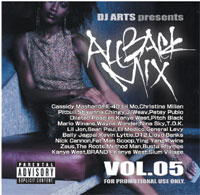 アーティストオムニバス
価格 \ 1,500(税込)
種別 コンパクトデイスク
レーベル/CHAMBERAND
※選曲リストはページ下です
-----------------------------------------------------------------
ALL BACK MIX vol.6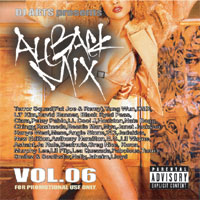 アーティストオムニバス
価格 \ 1,500(税込)
種別 コンパクトデイスク
レーベル/CHAMBERAND
※選曲リストはページ下です
-----------------------------------------------------------------
ALL BACK MIX -SPECIAL-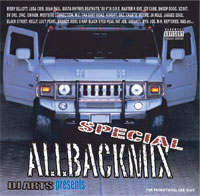 アーティストオムニバス
価格 \ 1,500(税込)
種別 コンパクトデイスク
レーベル/CHAMBERAND
-----------------------------------------------------------------
選曲リスト
-----------------------------------------------------------------
ALL BACK MIX vol.1
1. RIGHT THURR(REMIX)/CHINGY
2. BABY BOY/BEYONCE feat SEAN PAUL
3. GET IT ON FLOOR/DMX feat SWIZZ BEATZ
4. MR.BALLER/R59 feat CLIPSE
5. I WANT YOU/THALIA feat FAT JOE
6. FEEL GOOD(don`t worry bout a thing)/NAUGHTY BY NATURE feat 3LW
7. RULE/NAS
8. CRAZY IN LOVE/BEYONCE feat.JAY-Z
9. GET BUSY/SEAN PAUL
10.ROC YA BODY/M.V.P.feat.STAGGA LEE(mic check 1.2)
11.GOD SOME TEETH/OBIE TRICE
12.SLAMHARDER/ONYX
13.WHERE THE HOOD AT/DMX
14.WALK LIKE D.P
15.STUNT 101/G-UNIT feat.50CENT,LLOYDBANK&YOUNGBUCK
16.S***HITS THE FAN/OBIE TRICE feat.DR.DRE&EMINEM
17.THIS IS HOW WE DO/BIG TYMERS
18.PUT ME DOWN/DONELL JONES feat.STYLES p OF THE LOX&LADY MAY
19.LOVE @ 1st SIGHT (rishi rich vocal remix)/MARY J BLIGE feat.METHODMAN
20.SUPER STAR (jd remix)/JAMERIA
-----------------------------------------------------------------
ALL BACK MIX vol.2
1. PARTY TO DAMASCUS(REMIX)/WYCLEF JEAN feat MISSY ELLIOTT
2. STAND UP/LUDACRIS feat Shawnna
3. SHAKE YA TAILFEATHER/NELLY,P.DIDDY,MURPHY LEE
4. KRAZY LUV(Rockwilder remix)/BEYONCE' feat JAY-Z
5. GET LOW(REMIX)/LIL JON & THE EAST SIDE BOYS feat
ELEPHANTMAN,BUSTA RHYMES & YING YANG TWINS
6. All Out/ELEPHANTMAN
7. GIMME THE LIGHT(REMIX)/SEAN PAUL feat BUSTA RHYMES
8. NO LETTING GO(REMIX)/WAYNE WONDER feat LL Cool J & Dutchess
9. Never Leave You-uhooh.uhoooh!/Lumidee
10.NO LETTING GO/WAYNE WONDER
11.Pon De River.Pon De Bank/ELEPHANTMAN
12.THE EGYPTIAN DANCE
13.THOIA THOING(REMIX)/R.KELLY,SILK & THE People 's Choice REMIX
14.THOIA THOING(REMIX)/R.KELLY feat BUSTA RHYMES & BABY
15.INTER NATIONAL AFFAIR/SEAN PAUL feat TWEET
16.GET LOW MERENGUE MIX/LIL JON & THE EAST SIDE BOYZ
feat YING YANG WINS & PITBULL CUBAN
17.What's Your Fantasy(REMIX)/LUDACRIS feat Trina,Shawnna & Foxy Brown
18.FROM THA CHUUUCH TO DA PALACE/Snoop Dogg feat PHARREL
19.WHO RIDE WIT US/KRUPT feat DAZ
20.LET'S GET DOWN/BOW WOW feat BABY
21.Crashin'a Party(mac 1 remix)/LUMIDEE feat N.O.R.E.
22.Light Your A**On Fire(REMIX)/BUSTA RHYMES feat PHARRELL
23.NA NA NA(REMIX)/112 feat SPRAGGA BENZ,LADY SAW,BUCCANEER
& DAMIAN"JR.GONG"MARLEY
24.PLAYERS HOLIDAY/T.W.D.Y feat Too Short ,Ant Banks, Rappin'4-Tay,
Captain Sav'em,Macmall
25.Boll!!!/ONIZORI(from CHAMBERAND)
-----------------------------------------------------------------
ALL BACK MIX vol.3
01.MILK SHAKE/KELIS
02.PASS THE DUTCH/MISSY ELLIOTT feat.BUSTA RHYMES
03.SUPER STAR/JAMELIA
04.BREND
05.BEWARE OF THE BOYS/PANJABI MC feat.JAY-Z
06.DUDE/BEENIE MAN feat.Ms.THING
07.SNAKE/R.KELLY feat.BIG TIGGER
08.GIVE IT TO HER/TANTO METRO & DEVONTE
09.BLAZING/SEAN PAUL
10.RED RED/BEENIE MAN & ROBYN
11.JUMP OFF/LIL KIM feat.Mr.CHEEKS
12.PUMPIT UP/JOE BUDDEN
13.SHOW ME YOUR SOUL/ LENNY KRAVITZ,P.DIDDY,LOON,PHARRELL WILLIAMS
14.HOW YOU WANT THAT/LOON feat.KELIS
15.RIDE WIT U/JOE feat.G-UNIT
16.BEAUTIFUL/PHARRELL & SNOOP DOGG17.OOH WEE/MARK RONSON feat.GHOSTFACE KILLAH ,NATE DOGG & TRIFE
18.PUT IT IN THE AIR/TALiB KWELi feat.DJ QUIK
19.IT'S THE HOLIDAZE/WESTSIDE CONNECTION
20.WEST COAST BREND
21.WEST COAST PARTY/MR.SHADOW
22.EMINEM
23.GANGSTA NATION/WESTSIDE CONNECTION
24.BABY DON'T CRY(KEEP YA HEAD UP II)/2PAC & OUTLAWZ
25.BABY DON'T CRY/2PAC feat.WYCLEF
26.DOWN FOR ME/LOON feat.MARIO WINANS
27.THAT'S CRAZY/NODESHA
28.FALLIN(REMIX)/MYA,THE PHARCYDE
29.TELL ME(WHAT'S GOIN' ON)/SMILEZ & SOUTHSTAR
30.MY BABY/BOW WOW feat.JAGGED EDGE
31.ALL I HAVE/LL COOL J feat.JENNIFER LOPEZ
32.HOOCHIES NEED LOVE TOO/PARADISE
-----------------------------------------------------------------
ALL BACK MIX vol.4
01.SHAKE YA TAILFEATHER(CORPORATE REMIX) / P.DIDDY,NELLY, & MURPHY LEE
02.HOW WE GET DOWN / TJ.HOOKER feat 2PAC
03.SNAKE(REMIX) / R.KELLY feat Cam'ron & Big Tigger
04.HEY MA MA / THE BLACK EYED PEAS
05.YEAR! / USHER feat Lil Jon & LUDACRIS
06.Change Clothes / Jay-Z feat Pharrell
07.Amazim' / LL Cool J feat Kandice love
08.Teddy Bear / G*Wiz
09.SUMMER TIME (DJ Jazzy Jeff's Mix) / JAZZY JEFF & THE FRESH PRINCE
10.THIS IS WHO I AM / Lil Kim feat SWIZZ BEATZ & MASHONDA
11.I Don'T Care / GRAFH
12.Easier Said Than Done (Phat Jo Remix) /STARGATE13.nika / VICIOUS
14.MIC LOVE / GOLD MINE
15.Dirt off Your Shoulder / Jay-Z
16.Get by / TALiB KWELi
17.TO MY MAMA / BOWWOW feat AMERIE
18.TABOO / A.DIZZLELINI
19.You're My Sunshine / CHERUB feat Donell Jones
20.House Party / Latrelle
21.TURN IT UP (REMIX) / BUSTA RHYMES
22.FUNKY LEMONADE / CHi-ALi
23.SIGNAL THE PLANE / ELEPHANTMAN
24.Lazy Gal / MAD COBRA feat KEKE FINT
25.GANGSTA LEAN / DRS
-----------------------------------------------------------------
ALL BACK MIX vol.5
-----------------------------------------------------------------
ALL BACK MIX vol.6
01. Lean Back / Terror Squad(Fat Joe & Remy)
02. Tear It Up / Yung Wun,DMX,Lil' Kim & David Banner
03. Let's Get It Started (Spike Mix) / Black Eyed Peas
04. Goodies / Ciara feat. Petey Pablo
05. Headsprung / LL Cool J
06. I Like That / Houston feat.Nate Dogg & Chingy
07. Vibrate / Petey Pablo & Rasheeda
08. King of the Dancehall / Beenie Man
09. Fallen (4time remix) / Mya feat. Chingy
10. My Baby / Janet Jackson feat. Kanye West
11. We Dont Have to / Mase
12. I Wanna Thank Ya / Angie Stone & Snoop Dogg
13. Groupie Luv / 213 (Snoop Dogg, Warren G & Nate Dogg)
14. Time's Up / Jadakiss & Nate Dogg
15. Hot Tonight / New Edition
16. Welcome Back / Mase
17. Why? / Jadakiss & Anthony Hamilton
18. I Want It / B.G.
19. Bring It Back / Lil Wayne
20. Turn It U / Ashanti feat. Ja Rule
21. Hot / Beatnuts feat. Greg Nice
22. Tipsy (Remix) / Kwon feat. Chingy, Murphy Lee
23. Sunshine / Lil Flip & Lea Quezada
24. Into You / Fabolous feat. Tamia
25. Tell Me (Cade. One Day Remix) / Smilez & Southstar
26. My Place / Nelly feat. Jaheim
27. Southside (Remix) / Lloyd
-----------------------------------------------------------------
ALL BACK MIX -SPECIAL-
01.GOTTA GIT UP / DJ BLACKOUT&DJ FAIRE
02.UP&DOWN / CROOKLYN CLAN
03.GET UR FREAK ON / MISSY ELLIOTT
04.MOVE B***H / LUDDACRIS feat.MYSTIKAL&INFAMOUS
05.GET EM UP / DJ ROLI FINGAZ
06.SOUTH / CROOKLYN CLAN
07.MAKE IT CLAP / BUSTA RHYMES feat.SEAN PAULr
08.JUMP ON THIS / DJ LBR
09.HOLLA / CRUSH SOUNDS
10.GET EM UP / CLINTON SPARKS feat.CHUBBY CHUB
11.4 THE LADIES / DJ LBR
12.AFTER PARTY MIX / THE RETURN OF THE NEW JACK
13.SUPER THUG / NOREAGA
14.OOOHHHWEE / MASTER P
15.YOUR LIFE (SHORT) / 3 SERIES
16.WHO'S THAT GIRL / EVE
17.WEST COAST BREND
18.YOU CAN DO IT/ICE CUBE
19.WHO AM I (WHAT'S MY NAME) / SNOOP DOGGY DOGG
20.X / XZIBIT
21.B PLEASE / SNOOP DOGG feat.XZIBIT&NATE DOGG
22.STILL D.R.E. / Dr.DRE feat.SNOOP DOGG
23.THE NEXT EPISODE / Dr.DRE feat.SNOOP DOGG
24.WESSYDE DUB / DJ A.P.
25.CALIFORNIA LOVE / 2PAC feat.Dr.DRE
26.THE REAL SLIM SHADY / EMINEM
27.WALK / WC (WESTSIDE CONNECTION)
28.CONNECTED FOR LIFE / MACK10
feat.ICE CUBE&WC&BUCTH CASSIDY
29.I LUV IT / THA EASTSIDAZ
30.WHO RIDE WIT US / KURUPT feat.DAZ
31.STRAIGHT UP / CHANTE MOORE
32.PUT IT ON ME / JA RULE feat.LIL'MO&VITA
33.WHERE THE PARTY AT / JAGGED EDGE
feat.NELLY&J.D.&DA BRAT&LIL' BOW WOW
34.GIRLFRIEND BOYFRIEND / BLACK STREET
35.RIRE WIT ME / NELLY feat.CITY SPUD
36.DANCE TONIGHT / LUCY PEARL
37.WHAT ABOUT US ? / BRANDY
38.MY LIFE / KOOL G RAP
39.WHERE IS THE LOVE / THE BLACK EYEDPEAS
40.WHAT'S LUV ? / FAT JOE feat.JA RULE&ASHANTI
41.ROCK WIT U (AWWW BABY) / ASHANTI
42.FALLEN / MYA
43.SHE USED 2 LUV ME / JOE
44.SECRET
45.NOTHIN' / N.O.R.E.
46.POPULAR THUG / KELIS feat.NAS
47.PAIN / 2PAC